Description
Medium Plastic Storage Bin With Dividers (6″ depth)
Small bin size is 14.7″ X 9.1″ X 6″ inside dimension.  See Specification page for more details. Divider information is below.
Sketch below shows the spacing for the maximum number of plastic dividers.  Any number of dividers can be used to create the cavity size needed.  ie. By leaving out one divider the spacing will be approximately 2.5″. Dividers are sold separately.  Lids and label holders are available.  For ESD version of this bin see link DCE2060XL. Please contact us for a quote or for assistance configuring the bin.
---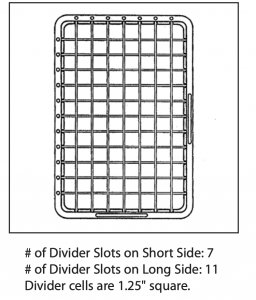 ---
Features:
Stacking Bins.  Bins do not nest
Made with Heavy Duty Polyethylene for Industrial Applications
4 colors blue, light blue, red, and gray
Load Capacity 40 lbs.
Clear or opaque lids available.