Definition: Insert trays are cavity trays which use another packaging or storage product as part of their structure. An insert tray can be used with a plastic corrugated box, plastic bin, hinged plastic box, or standard corrugated box. This allows the cavity tray to be thinner, more economical, and environmentally friendly. At the same time it allows the bin or hinged box to be used with multiple tray inserts packaging different items.
Blue bin with dividers                             Bin with foam insert tray                     Bin with heavy duty insert tray                    Bin with clear insert tray
Stock Plastic Bins & Insert Trays
(Click Photo LINKS below for more details)
Storage Bins with Dividers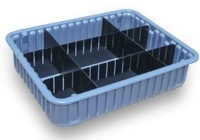 These bins are stock and ship in 1 – 2 days in colors blue, red, and gray.