Custom Foam Packaging Inserts

Example 1) ESD Foam Tray and ESD Hinged Box
As shown, ESD foam insert tray with 12 cavities. Black plastic box is conductive styrene with heavy duty hinge and snaps. Box is designed to close on top of foam tray.  Similar ESD hinged boxes comes in over 12 sizes.  Total NRE $ 95.
Example 2) Polyurethane Foam Tray and Polypropylene Box
As shown, standard Polypropylene hinged box with black polyurethane foam custom tray. Box is semi-transparent allowing part viewing with heavy duty snap and hinges. Similar hinged boxes comes in dozens of sizes. Total NRE $ 95.
Example 3) Anti-Static Foam Tray with Clear Box
As shown, a 100 cavity foam tray made with inexpensive polyethylene foam. This set includes a lid to rest on parts before closing hinged box lid. Box material is clear polystyrene.  100 box sizes available. Contact customer service for help with a recommendation and quote. 
Example 4) EPE Foam Rated For Class A Surfaces with PP Box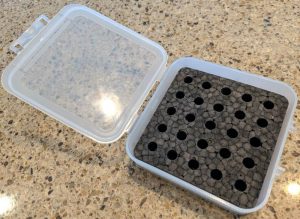 Custom Foam Insert Example 4 – As shown, 25 cavity insert tray used for Class A components.  EPE is excellent non abrasive foam. 
Example 5) Blue Stock Bin with Foam Insert Tray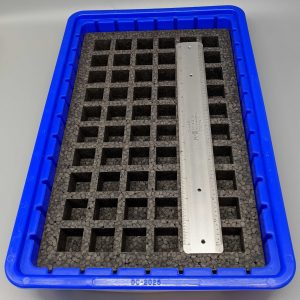 As Shown, a 60 cavity stock foam tray made to fit a stock bin.  Foam is rated for class A surfaces.   Tray is reusable and sturdy made from EPE Black Foam.  Bin stacks with or without lid and is available in blue, gray, and red.
Custom Foam Insert Trays
Features:
Free quote. This involves a review of the application, key design requirements, and tray function. Specific design process will be noted in estimate.  CALL, EMAIL, OR FILL OUT QUOTE REQUEST.
With PO, drawing is created for approval. This step helps insure the tray meets expectations and serves as an opportunity to make adjustments and or changes to design.
Mini Cavity Sample. We build a tray with only a few cavities in most custom tray projects. This is a good and inexpensive test of part-cavity fit, and stacking. Changes can be made after this step.
Full size prototype. This step can be added if any specifications require a full size tray for package testing or for evaluation.
Production Tooling is built and first article submitted for final approval.  Low tooling costs with custom foam trays from $ 90.
Tooling and Design
There are 100's of hinged box sizes in many styles; most of which are not on our website.  With a free quote we can recommend a hinged box for the application and supply a sample for review.  Contact us to discuss design or request a quote.