Vacuum formed trays are commonly used for packaging applications due to its lower cost tooling, ability to run thin material, and large number of design features.
THERMOFORMING PROCESS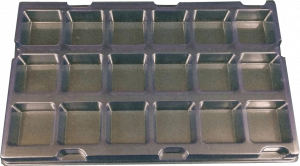 Thermoforming is made up of several similar processes.  These include vacuum forming, pressure forming, and twin sheet forming.  They all have applications with plastic packaging. Vacuum forming is used for more basic trays and is the least expensive option.  Pressure forming adds pressure to the part pressing the plastic against the mold.  Pressure forming is better for high detail, close tolerances, and small cavities.  Twin sheet forming essentially welds two sheets of plastic together allowing for hollow parts or reinforced parts.  Twin sheet forming is used for skids, trays with fork truck access, or for trays  requiring two surfaces.
Vacuum formed trays are built using mulitple equipment types. Single station machines are used for low volumes based on low set up cost. Inline thermoforming equipment is used for higher volumes based on low cycle times.
ADVANTAGES OF VACUUM FORMED TRAY PACKAGING
Low cost tooling usually 1/10th of the cost of a injection mold tool.
Faster turn around
Large number of material options including ESD materials and antistatic materials.
Materials: PETG, RPET, PVC, ABS, Styrene, HDPE, Polypropylene, and Polycarbonate
Very thin parts can be made.
Thin gauge (.015″ – .050″) and heavy gauge (.060″ – .375″) trays can be made with any of the thermoforming processes noted above.
VACUUM FORMED TRAY DESIGN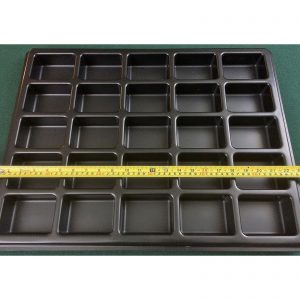 A complete Custom Thermoformed Tray Design Guide is at link.  Key features available with vacuum formed packaging trays are noted.
Tray Stacking allows for tray to stack with no load on electronic components and parts. This is usually done with 180 degree rotational stacking or with 90 degree rotation.  Undercuts can also be used for stacking if rotation is not an option.
Part identification can be molded into tray; or tray cavities can be numbered allowing for faster inspection. This add very little to tool cost and add not cost to piece price.
Custom cavities can be formed to exactly match cavity, and to protect sensitive areas.  For pins, or other fragile items clearance cavities can be formed so there is not contact to tray during the shipping process.  Finger or tweezer clearance can also be formed into the tray cavity.
VACUUM FORMED TRAYS INFORMATION
The Industrial Trays page has additional information on materials, best practices, and common features for industries shown below.
Electronics
Medical
Optics
Machine Shop
General Manufacturing
WIKIPEDIA (VACUUM FORMING)
Process information
Mold options