Optical Trays, Bins & Packaging
Individual Optics Clamshell

The sketch above shows the side view of a single lens shipping clamshell. The tray and cover do not contact the individual lens on the optically clear surfaces. Finger or tweezer clearance allow for easy handling. The individual optic clamshell is a custom packaging solution. Tooling cost is kept low through standardization. Contact us for details.
Optics Tray Cavity Closeup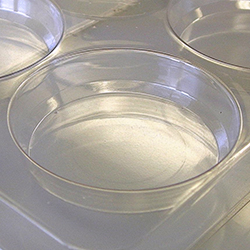 The photo above shows a cavity closeup of a optics shipping tray.  The tray was used to transport parts to and from a key vendor.  By sitting on the 45 degree angle in the cavity, the optic is suspended leaving clearance between the optical surface and the tray.  This is a common packaging design for round optical lenses.
Individual Cavity Trays for Optics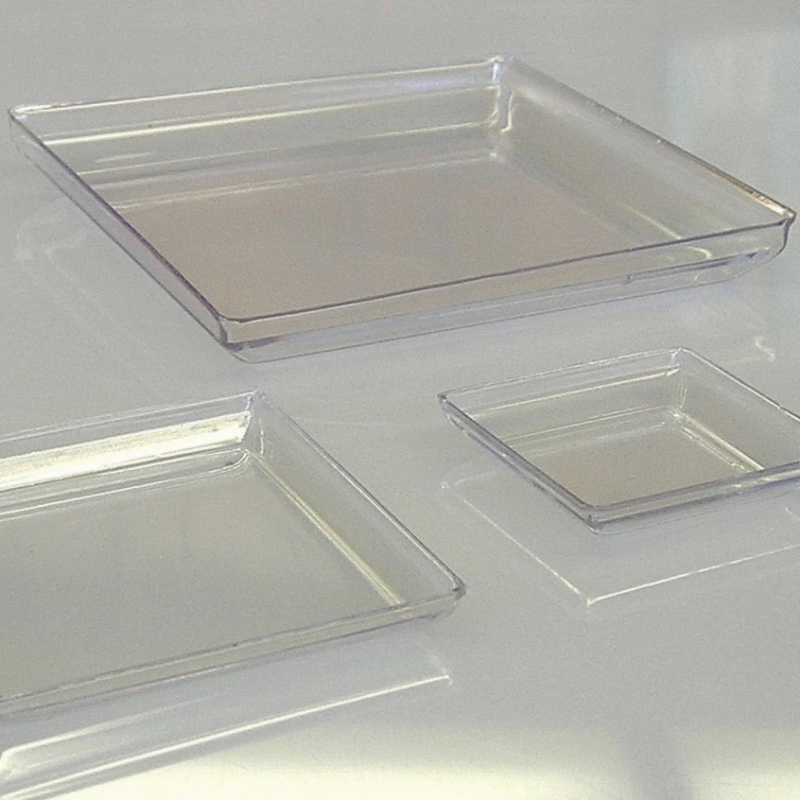 The individual cavity optics trays shown above are made made for optical gratings.  Like the round cavity optic tray, the 45 degree angle supports the edge of the optic.  The optical surface is raised leaving clearance below.  This is a common cavity design used in protecting square and rectangular optics.
In Stock Optical Plastic Trays & Bins:
Stock Trays are also available with no tooling required. These trays have standard geometric cavity shapes and are offered in multiple materials.
No tooling required
Tray cavities will prevent parts from contacting each other
Tray Stacking
Lids are available
100's of cavity sizes are available
Disposable trays and reusable tray options available
Material options include PETG which is a low out-gassing material commonly used for Optics packaging
Custom Optical Dispensing Trays, Clear Optical Cavity Trays, Optic Lens Insert Trays & More
Large reduction in labor cost, as lens can be placed directly in cavities with no wrapping, or bags.
Lens is protected from damage or drops when in clamshell. Cushioning features are designed into package.
Optional features such as snap features, stacking, and finger cavities can be added.
Customer name can be molded into trays or cover. Brand names or websites can be added to packaging and can be a reminder to customer where purchased.
Thermoform tooling is much less expensive than injection molding. Process is used for low to high volumes. Tooling for optics trays and clamshells starts at $ 1200.
Complex cavities can be created for part protection. 45 degree angles are often used in custom optic cavities as shown above.
Clear Optical Tray Cavities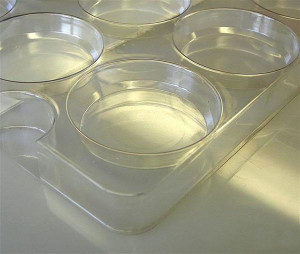 Raised Rectangle Lens Trays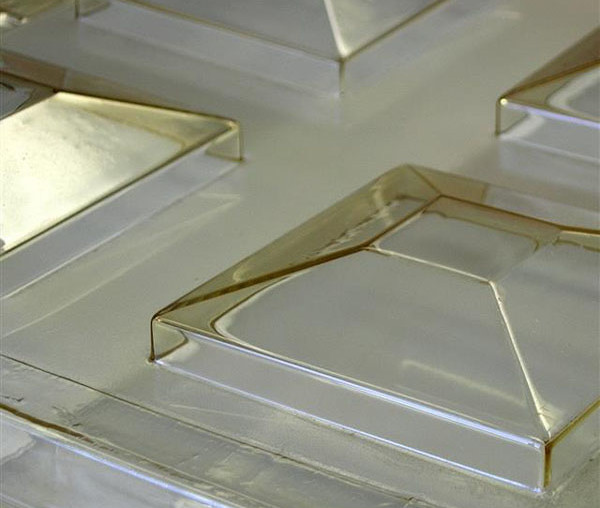 Optical Lens Plastic Blisters