ECP Plastic Trays specializes in wide range of Custom Plastic Trays to cover just about every application need you can think of. Our custom thermoformed plastic trays include anything from ESD Trays, Large Plastic Trays & Large Drip Pans to Custom Disposable Trays, Reusable Shipping, Custom Material Handling Trays and more!
Plastic trays are made from thermoformed plastic material. The most common types of material used in thermoformed packaging are PETG, PVC, Styrene, Polycarbonate, HDPE, and ABS.  Each material type has advantages and disadvantages.
A thermoform tray is a plastic tray made using the thermoforming process. The process heats plastic sheet and stretches into a mold.
Plastic thermoforming is one of the least expensive ways of manufacturing plastic trays. Tray cost varies but is much lower than other packaging processes.
Thermoformed packaging encompasses plastic trays, plastic clamshells, and plastic end caps.  All three styles of thermoformed packaging are used with corrugated for proper part protection during shipping.
---
COMMONLY ASKED CUSTOM PLASTIC TRAY QUESTIONS ARE ANSWERED BELOW.
VIEW DOWNLOADABLE CUSTOM PLASTIC TRAY DESIGN GUIDE AT BOTTOM OF PAGE.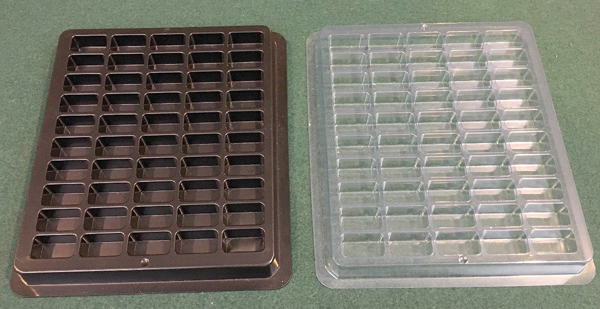 Custom Plastic Trays Tooling Costs
Low Volume: Custom Plastic Tray Molds begin at $ 750 for smaller trays in low volume applications.
Custom Plastic Trays Tooling Cost: The typical tooling cost for 12 x 8 Custom Shipping Tray or ESD Tray with custom cavities is $1075. Review your application with a tray packaging specialist.
Custom Plastic Trays Tool Cost Factors
Complexity of cavity, size of tray, and material used for tray. Some materials such as Poly-carbonate and Polypropylene can require more complex tooling.
Tooling is maintained for the life of your program. A production mold is estimated at 500,000 trays; but likely will last much longer.
Types of Custom Plastic Trays
Shipping Trays: Styrene and PVC are the least expensive options.
ESD Trays: Trays can be made disposable for shipping or reusable in anti-static, ESD, or conductive materials.
Reusable Trays: These trays can be for storage, plant handling or can ship on skids to and from a vendor.
Custom Plastic Trays Design Process
The typical process follows some or all of the steps noted below. These steps help insure the tray works properly once the process is complete.
1. Free quote. This involves a review of the application, key design requirements, and tray function. Specific design process will be noted in estimate.
2. With PO, drawing is created for approval. This step helps insure the tray meets expectations and serves as an opportunity to make adjustments and or changes to design.
3. Mini Cavity Sample. We build a tray with only a few cavities in most custom tray projects. This is a good and inexpensive test of part-cavity fit, and stacking. Changes can be made after this step.
4. Full size prototype. This step can be added if any specifications require a full size tray for package testing or for evaluation.
5. Production Tooling is built and first article submitted for final approval.
Custom Plastic Trays are manufactured using the vacuum forming process.  For more information see Vacuum Forming.
Custom Plastic Trays Lead Time
Timing for custom trays vary depending on a number of factors. On the low end 2-4 weeks ARO if project is basic and low volume. Typical lead time is 5-6 weeks. If changes are made during the design process this time can increase. Complex tools or higher volume items can have lead times as high as 10-12 weeks.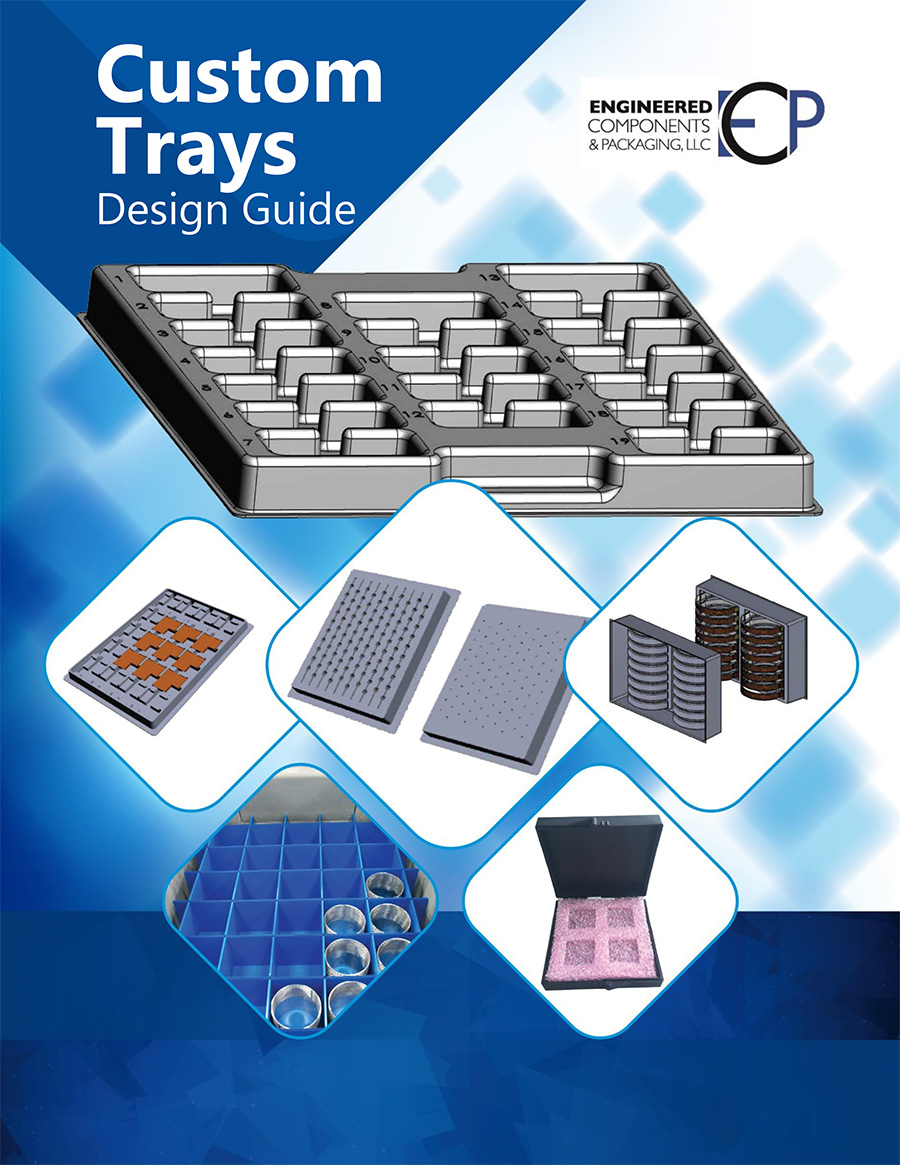 CLICK IMAGE – FREE PDF TRAY DESIGN GUIDE!