Manufacturing Tray Packaging Solutions
Manufacturing Parts Trays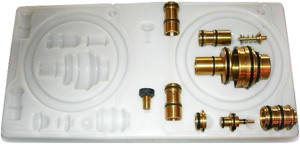 Photos shows an example where the part fit prevents parts from being placed in the wrong cavity.
Part color contrasts sharply with tray to make it obvious if a part is missing, or if a part was remaining after assembly. This avoids costly assembly errors.
Tray is reusable with a long life. Trays are able to be washed as needed over time.
Lettering with part description or part number is molded molded into tray.
Tooling Cost Low: thermoform tooling estimated at 1/10th of injection mold tooling.
Tray used for storage and component part staging in preparation of final assembly.
Tray Cavities are numbered for part identification.
A dozen cavity sizes
Clear and opaque lids available.
Material options include Gray HDPE, Anti-Static Blue HDPE, and Conductive Black HDPE.
Generally stock in Gray HDPE.
Heavy Duty for long term use.
In Stock Plastic Trays, Heavy Duty
Large Tray Cavities
Sort and/or obtain component parts from tray with ease to speed up the assembly process.
Multi-purpose trays can also be used as storage trays
Heavy Duty, Reusable plastic parts assembly and storage trays
Material options include….
Multi-purpose sorting and storage bins with lids
Multi-purpose sorting and storage trays with lids
Heavy Duty, Reusable plastic bins and storage trays
Material options include