Thermoformed Packaging Product Types 
Thermoformed Trays
Custom formed cavity to match part and limit movement.
Thermoformed cavity often is designed with clearance areas for fragile sections of the part. This is very common with optics, or if sensitive posts, or electronic components. The tray cavity is designed to contact specific areas of the part while having clearance for fragile sections.
Tooling cost is 1/10th of injection molding so allows for low and mid volumes of thermoformed trays.
Material options include PETG, Conductive styrene, HDPE and many others. More information can be found on Plastic Thermoformed Trays page under Industries served.
Thermoformed Clamshells
A Clamshell is a thermoformed tray with a thermoformed cover. The most common option is a one piece where the tray and cover are combined with a living hinge. The hinge is a thinned out section which easily bends allowing cover to fold over tray. A tray and cover separate can be considered a clamshell as well. Thermoformed clamshell packaging is common with retail products hanging in a store or sitting on a shelf. ESD applications are also common where a circuit board is contained between the tray and cover.
Thermoformed Blisters
Definition & Characteristics
A thermformed blister package is a cavity formed into plastic which holds a component or part. The blister is commonly used with foods, and consumer goods to package and seal product. A blister is basically a very simple thermoformed tray without sidewalls and only a formed cavity. Materials used are PVC and PETG.
Thermoformed Tray Photo Gallery
Thermoformed trays are used to minimize movement of medical components, protecting sensitive parts. A second reason, and as important, is to keep medical components clean.  This is common practice with machine shops, ESD components when foam, or paper molded pulp trays are not appopriate for cleanliness.  Thermoformed trays are used with a separate cover or with a hinged cover (clamshell) to protect components from the outside environment. The thermoformed tray and cover can be snapped or sealed with tape. ESD trays are often used to minimize the accumulation of dust on the plastic thermoformed packaging. More information and product types can be found on Industries Served page, Plastic Medical Trays & Packaging.
Thermoform ESD trays are used to for part protection with electronic components. PCB is often are populated with sensitive components with pins and other breakable features. A custom tray cavity is used to contact the circuit board in specific places leaving sensitive features in clearance areas. Materials used for thermoform trays include anti-static materials, static dissipative materials, and conductive materials. More information and material specifics can be found on Industry Served page, Electronics Parts Trays.
Machined Parts including Swiss Parts Ship Trays
Bulk packing of machine parts often causes damage to components. This is made worse when coatings are applied to the machine part. Usually stock thermoform trays are sufficient for machined parts and swiss machined parts. The square, rectangular, and round cavities are common for stock vacuum formed trays. View multiple sizes stocked for Shipping Trays.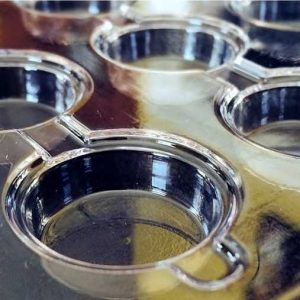 Optical lens generally have few areas where contact with packaging is allowed. There are a number of common cavity designs in thermoform optics trays. 45 degree angles are used to contact edges and not optical surfaces. As with electronic trays, clearance areas can be created in the plastic tray cavity. The most common thermoform material used in optical trays is PETG. Material is used in a uncoated state. Some photos and examples are shown on Industries Served page, Optical Tray Packaging & Solutions.
Material Handling Trays & Plastic Bins
Thermoformed trays can be made in heavy gauge materials for reuse and stacking on skids with no box required. The most common materials are HDPE and ABS. Trays can be formed in thickness to ½".
This is a growing area. Thermoform trays are used in automation, and more specifically with robotic arms. Automation trays are formed with specific features that can be identified with robotic eye, or with other identification methods. This allows tray to be oriented and located in proper position in the automation line. The thermoform trays used are almost always custom trays. For more information on custom trays, see Custom Trays section. Included in this section is a design guide for thermoforming.
Drip Trays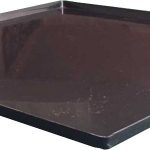 The most common method for producing plastic drip trays is the process of thermoforming. Drip trays are often used to catch moisture under manufacturing equipment, under refrigerators, and any application where damage can occur from liquid or the liquid can create a hazardous condition. There are over 16 thermformed Plastic Drip Trays in stock.
The Thermoforming Process for Packaging 
Thermoforming is a manufacturing process where extruded plastic sheet is heated to a point where it is able to be stretched. A combination of vacuum, pressure, and/or a mechanical tool are used to force the plastic into the mold and create the shape of the tray. Thermoforming can be divided into 3 main processes; vacuum forming, pressure forming, and twin-sheet forming. All three of these processes are considered thermoforming. The starting gauge of plastic sheet for thin gauge thermoforming is typically between .015" and .060" thickness. The starting gauge of plastic sheet for heavy gauge thermoforming is between .080" and .5". The process stretches the material so finished thickness of the tray is less than starting gauge.
Vacuum Formed Packaging
The vacuum forming process uses a single sheet of extruded plastic. A roll or sheet is heated to the softening point. As it softens a vacuum is applied and the sheet is pulled over the mold. The mold can be configured to pull the plastic over male or female features. Vacuum Forming is the most basic of the common thermoforming processes and has the least expensive tooling. The tool side of the mold and part has the tightest tolerance. With vacuum forming side of the part not touching the mold will need to account for the material thinning.
Pressure Formed Packaging
The pressure forming process also uses a single sheet of extruded plastic. A roll or sheet is heated to the softening point. As it softens both a vacuum and pressure is applied to the plastic. These two forces push the material tightly against the mold to form the tray. The mold can be configured to pull the plastic over male or female features as with vacuum forming. Pressure forming creates thermoformed trays with higher cosmetics, better snap features, tighter radii and more crisp features. Trays with smaller cavities often require pressure forming for proper function. The tool side of the mold and part has the tightest tolerance.
Twin Sheet Formed Packaging
Twin-Sheet forming heats two thermoplastic sheets at the same time, forming trays on two separate molds on the same machine. Once the trays are formed the two parts are brought together and combined with a heat and pressure process. This allows for the tray to have completely separate features on the opposite side. This is a pressure forming process and often used for hollow parts, for heavier gauge skid trays. The twin sheet formed thermoformed parts can be similar to a rotationally molded or blow molded part. This process is less common with thermoform packaging except as noted. It allows for different color sheets to be combined; and runs much faster than rotational molding.
Thermoformed Tray Material
PETG – Excellent option for optics and medical trays.
PVC – Least expensive option for thermformed trays common with machine shops.
Styrene – Inexpensive material available in low volumes in black and white. Generally used for disposable shipping trays.
Polypropylene – Common in the medical industry usually for reusable trays or when specific cleaning processes are required.
Polycarbonate – Thermoformed trays are made from polycarbonate in higher heat applications. View Heat Guideline for Polycarbonate.
ESD Polycarbonate – A new material with both ESD properties and able to withstand higher temperatures and lower temperatures. Call for information.
Thermoforming and The Environment
Most plastic materials used with thermoforming are recycleable. Recycle code can be added to custom trays for easier identfication. 
Best design practice uses the thinnest material possible to maintain function and properly protect parts; making the least environmental impact.
Most trays, even thin gauge trays, are often reused many times.  A cleaning process can be added if needed.
Recycled materials are commonly used in thermoforming with materials being reused several times.
PLA and other biodegradable plastics are becoming more common; however usually require higher minimums and are available in custom applications only at this time.  Contact us for details. 
Thermoforming – Additional Resources