LOW VOLUME CUSTOM TRAY PACKAGING – LOW TOOL COST
This post highlights options for low volume custom thermoform trays. Several options which have low tool cost are highlighted. Estimated tool costs are noted. At ECP Tray we generally offer any stock items first. If these do not meet you requirements for cavity size or material, a custom or run to order option is available.
3 SECTIONS BELOW:
(1) Foam Trays  |  (2) Run to order with STOCK TOOLING  |  (3) Using Standard Tool Sizes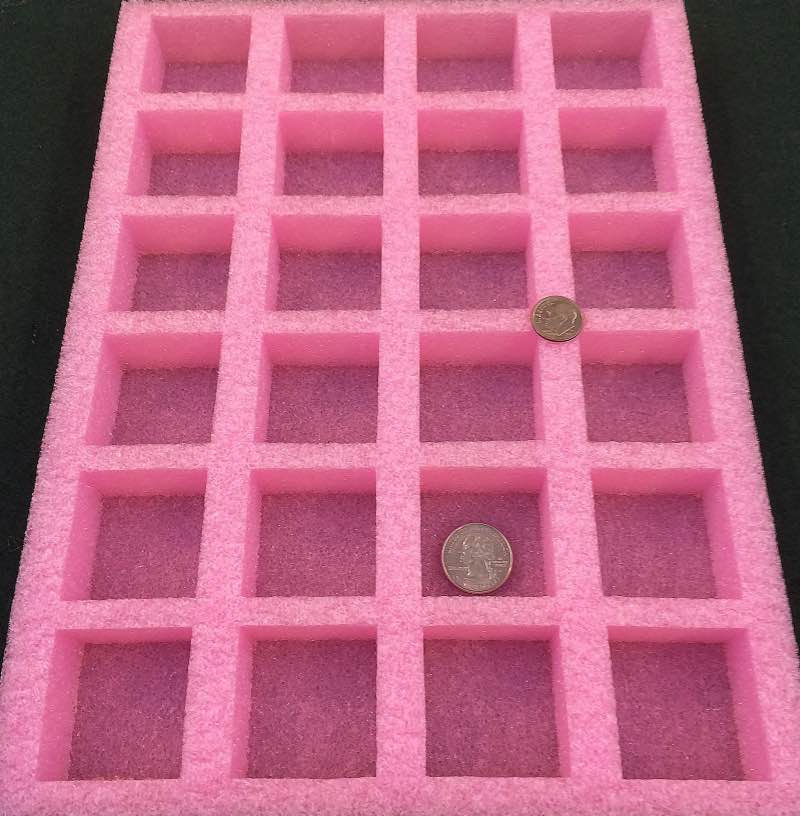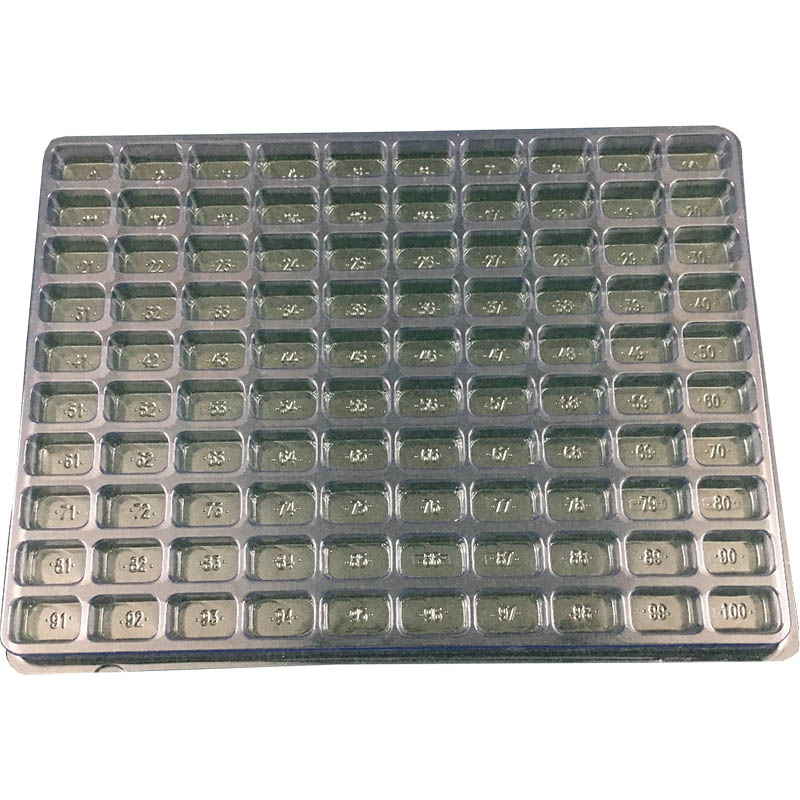 LOW COST FOAM TRAYS
NRE – $ 95.
No minimum.
Material options.
Virtually any size and cavity configuration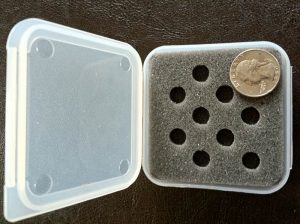 Foam Materials: A foam tray can be made out of multiple material types. These include anti-static pink, black conductive foam, polyurethane, polyurethane, EPE beaded foam, EPP foam, and crosslink. Foam tray materials can be of multiple densities from low cost, to high densities which hold quite a bit of weight with little or no deflection. A customer service representative can help determine the proper foam for your application. More information on Custom Foam Trays here.
Cavity Sizes: Very small cavities can be made for tiny cylinders or any small item. See photo of tray being used as a kit in the plastic hinged box. Larger cavities can be made for single cavity trays. No limit to the overall tray size.
RUN TO ORDER WITH STOCK MOLDS
Over 1000 stock tray molds can be run in different material types and thicknesses. If the stock material for a tray is too thin, or does not have the correct properties for your application, alternate materials can be run. Some of these are listed below with typical properties and applications. Contact a customer service representative for a formal quote.
Material Types In Stock:
PETG – A anti-static version or uncoated version can be used for low outgasing. These are often used for medical or optic applications.
PVC Anti-Static – Used when disposable anti-static trays needed for circuit boards or other electronics.
Polypropylene – Often used when trays run through a cleaning process or for certain chemical resistance.
Polycarbonate – high heat deflection often used in lab trays.
Conductive Styrene
Material Thickness Options:
.040″ – can be run on inline for lower cost.
.060″ – can be run on inline for lower cost.
.090″
.125″
.187″
USING STANDARD TOOL SIZES
Low tooling cost compared to custom size tooling.
100 piece minimum.
Lower piece price.
Cavity size or shape to your requirement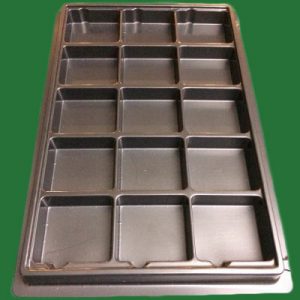 There are several overall tray sizes which are standard and allow for inserts molds to be used reducing tool cost and tray cost. The cavity sizes can be made to meet your specifications within the standard overall tray size. Common sizes are noted below with approximate tool costs.
TOOL COST (APPROXIMATE)
12″ X 9″ Tray (cavities to your requirement) – $ 995.
12″ X 12″ Tray (cavities to your requirement) – $ 1095. This tray is made to fit a standard off the shelf box 12″ X 12″.
15″ X 11″ Tray (cavities to your requirement) – $ 1150.
12″ X 8″ (cavities to meet your requirement) – $ 1250. This size has additional material options including conductive styrene for resuable ESD applications.
A customer service specialist will help you navigate through the many low cost options for custom trays.