Foam Cavity trays can be made in multiple ESD materials. Materials include:
Anti-Static Pink Polyethylene (multiple density options starting at 1.7#)
Anti-Static Pink Polyurethane (multiple options)
Black Polyethylene Conductive
Crosslink Conductive Polyethylene
More material options on Foam Materials Page 
---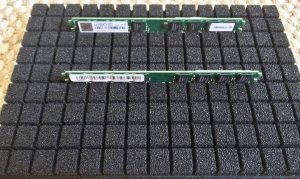 ESD foam trays can be used as along with ESD hinged plastic boxes or ESD stock bins for an ideal packaging or storage kit. We can suggest design. NRE is only $ 95 as stock bins and boxes are used. No cost for a quote.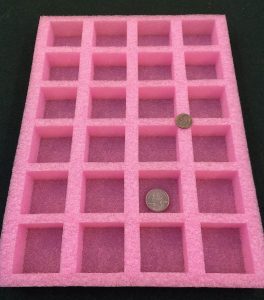 Anti-Static Foam trays , and anti-static foam inserts for boxes can be used as stand alone ESD packaging. Trays can stack and be made to fit a standard size box or bin. This packaging is durable, reusable, and protects parts well. Cavity sizes to your requirement.